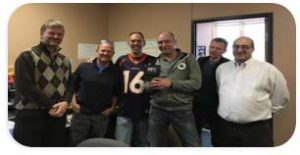 Assembling the Right Team
In order to develop the PTV Series, Lovibond
®
Tintometer
®
assembled a team of globally recognized turbidity and process instrumentation experts. We tasked them with creating a new instrument that addresses all of the issues customers struggle with while using their current turbidity systems. The solution needed to consider every aspect of process turbidity workflow - from installation and setup; daily measurement and control; routine procedures such as calibration, verification and maintenance; to data collection and management.
User Inspired System
After years in development, we are proud to say that we have created a secure system with significantly reduced complexity. By allowing users to interact with an unlimited number of turbidity sensors using an app installed on a smart phone or tablet, we have eliminated the requirement of dedicated controllers for each instrument which allows maximum flexibility as operator needs and regulatory requirements change in the future. With a focus on simplicity and user safety, we've integrated the steps of performing key procedures into the AquaLXP app, as well as into the local touchscreen display. We've packaged the T-CALplus standards in a way that makes them easy to prepare while protecting the users from ever being exposed to chemicals. The PTV 1000 and PTV 2000 are designed to comply with ISO and EPA reporting regulations. With the ability to export and easily analyze data, making sure turbidity values are in compliance has never been easier.